Melissa Harvey
27 July 2023
1 min
Meta's latest Threads feature lets you filter posts by accounts you follow 
Meta has rolled out its first major Threads update since the platform debuted earlier this month.
The app now has a new Following feed in the Home tab, which lets users see content only from the profiles they've chosen to follow in chronological order.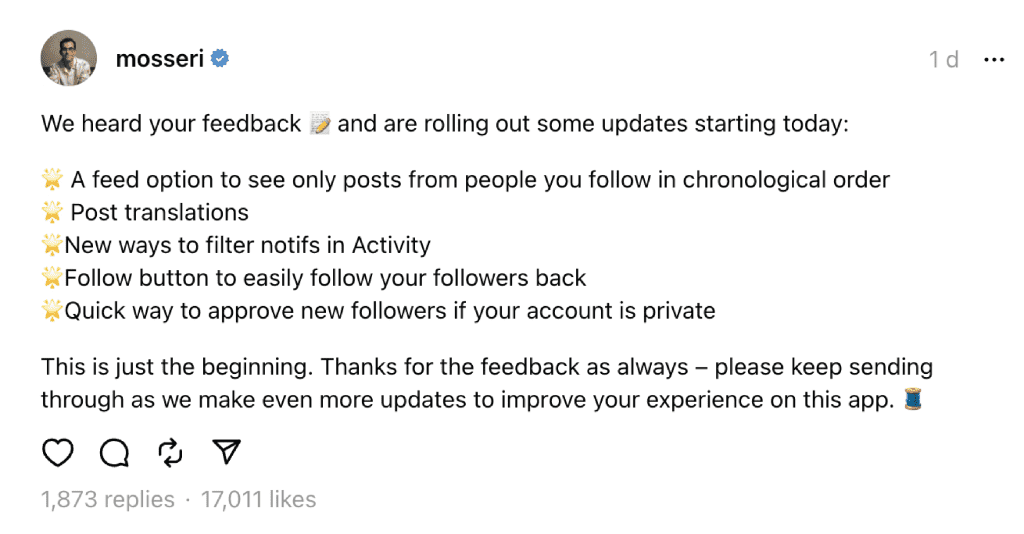 This sits alongside the default For You feed, which shows posts from people you're following and from algorithmic recommendations.
Plus, Meta's added post translations, and the ability to filter your notifications by follows, quotes and reposts in the Activity tab.
How the new Following feed affects your Threads strategy:
The feature addresses a key omission at Threads' launch, which led some users to see post recommendations they weren't interested in.
It's been reported that Threads is seeing a decline in traffic since its launch – Meta's clearly hoping this could be enough to get users to stay.
The Following feed allows users to see specific content from accounts they follow, which means you'll likely get visibility from your most engaged followers.
But you'll still need to balance appealing to your core audience while also reaching potential followers to maximise visibility and growth on Threads.