Melissa Harvey
10 August 2023
1 min
TikTok's introduced new processes for videos made with AI 
TikTok is introducing tags for AI-generated content in an effort to get ahead of the rise in AI deepfakes and misinformation.
According to screenshots shared by Matt Navarra, TikTokers are now required to disclose when their videos depict AI-generated "realistic scenes", or have the video removed by moderators.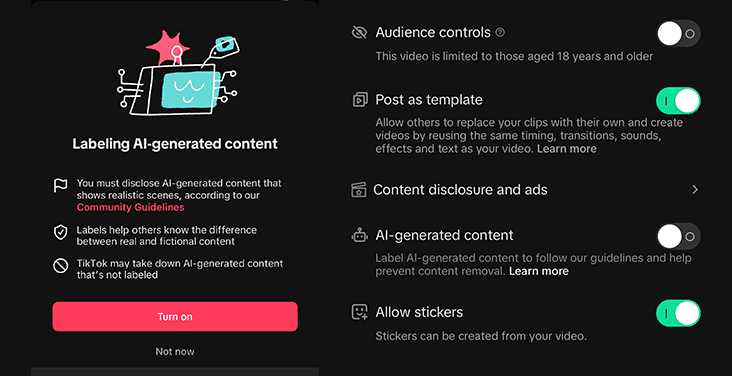 You can toggle on or off the AI-generated content tag in the video upload process.
TikTok's parent company ByteDance introduced AI labels for Douyin, TikTok's Chinese counterpart, earlier this year.
Instagram and YouTube are developing similar safety features to address the increasing growth of AI-generated online content. 
The implications for brands on TikTok:
TikTok's update is a reminder of the need for transparency regarding videos made with AI – but what constitutes "realistic scenes"?
According to TikTok's Community Guidelines, it's "fake people, places or events that look like they are real".
You can't publish videos that use synthetic media to produce a likeness of any real private figure, or a public figure if the content is used for endorsements or violates any other policy.
If you're using synthetic media – AKA AI technology – for your next TikTok video, always disclose it as such.