Melissa Harvey
9 March 2022
4 min
Brands need to lose their corporate tone of voice to succeed on social
Ask a traditional marketer what an airline's most viewed TikTok video would be and they'd say an entertaining or instructional video about flying with them.
But Ryanair – or plane face, as Ryanair's TikTok mascot is otherwise known – cinched 11 million views by asking brands to comment over a trending audio mashup track.
Out of context, it seems like poor marketing. The audio doesn't make sense and the content doesn't sell the product.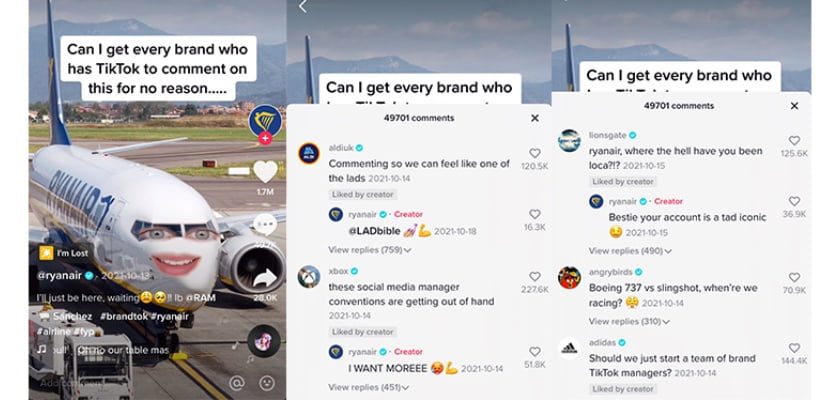 But leaning into the language of TikTok, or viral sounds only a TikTok user would recognise, and addressing the drawbacks of flying with a low-cost carrier made Ryanair the most followed airline on the platform.
Ryanair's tone of voice embodies someone who knows exactly what it is to be a Ryanair customer.
Over time, consumers have come to expect brands to join conversations previously considered off-limits. Twitter's 2022 #RealTalk report revealed 90% of topics like social and cultural issues, memes and internet culture are on the table for a brand if addressed with consideration.
But it's not just what you say, it's how you say it. Consumers want brands to speak to them like people. And Ryanair's tone of voice embodies someone who knows exactly what it is to be a Ryanair customer.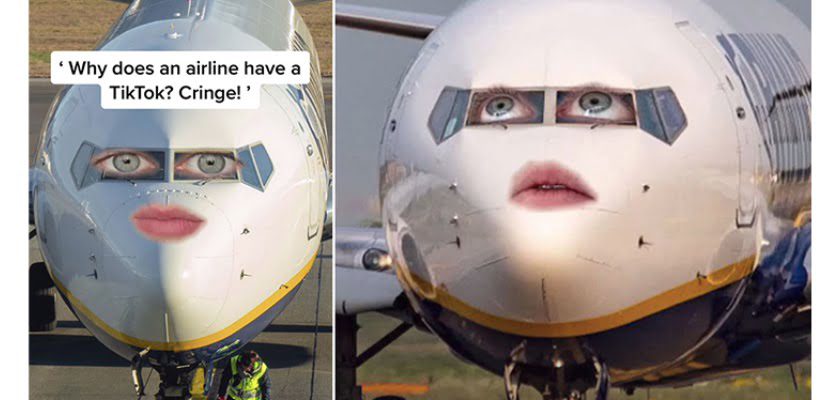 Ryanair's TikTok account channels the brand's cheeky, playful TOV by personifying the Ryanair plane. Content feels truly native because plane face mirrors the intricacies of Generation Z subculture, whether that's self-deprecating messaging or referring to followers as 'besties.'
Ryanair then tweaks platform trends to suit its brand message in unexpected ways, like jumping on trending audio to create memes about the airline's seemingly endless additional charges and lack of legroom.
It even posts compilations of witty comebacks to negative comments – an approach that arguably skates the line between professionality and bad customer service.
Ryanair is a prime example of how adaptability is essential when it comes to TOV on social. The brand approached TikTok differently to its other channels, knowing the secret to success lay in meeting its Gen Z audience there.
Adaptability is essential when it comes to TOV on social.
Ryanair has endured its fair share of criticism, though. On LinkedIn,, corporates are lambasting the so-called unprofessionalism of an airline having a TikTok account. The social media manager's reply? "OK boomer."
Ryanair's social media admin has also inspired a cult following. Followers speculate admin's singular identity despite the existence of an entire social team, generating PR interest and engagement.
"The person running this account is amazing", says one comment. Another says, "Admin needs a raise!"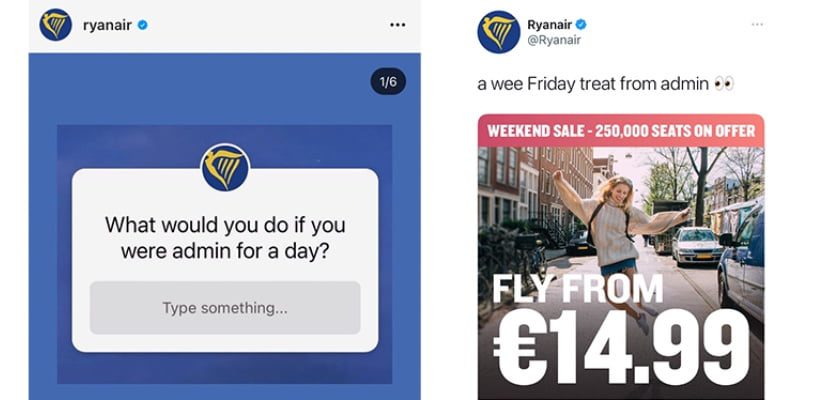 This all sounds surprising for a brand that, before its TikTok era, was well-known for negative sentiment on social. Instead of trying to contend that, Ryanair has embraced negative perceptions while keeping TOV true to the brand and entertaining its audience.
Ryanair has embraced negative perceptions while keeping TOV true to the brand and entertaining its audience.
Other brands that have found success on TikTok, like Duolingo, use the same principle. Duolingo's tendency to jokingly use guilt tripping and passive aggression to retain users is well known among its audience.
Duolingo carried this TOV over to TikTok, amassing 3.2 million followers through videos of its owl mascot harassing users for missing their lessons.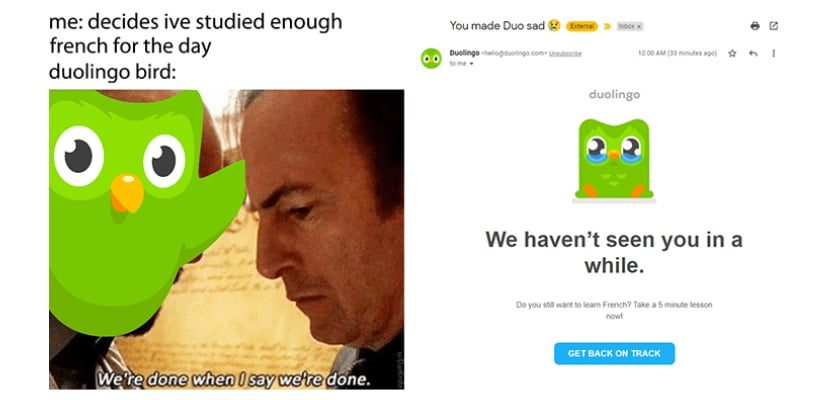 Going viral is all good fun, but do likes translate into sales? Indirectly, yes. Some of Ryanair's most loyal fans leave comments about never flying with another carrier or booking Ryanair flights because they love the TikTok account.
But any brand, including Ryanair and Duolingo, should know organic TikTok is not the place for a hard sell. It's about brand and community building, memorability, and salience that keeps you top-of-mind when it comes time to buy.
It proves that corporate brands don't always have to be corporate on social. Changing perceptions means you'll not only surprise people, but can create something new.
How brands can find their social tone of voice:
Your copy can afford to push the boundaries – your customer service can't. That's why Ryanair has a secondary customer service Twitter account.
Ryanair's TOV works because it embraces its reputation for being irreverent. Take the brand identity your audience has given you and make it work for you.
Channelling your TOV through a mascot or brand character lets you be brazen without customers perceiving you or your employees to be unprofessional.
Tailor your TOV using platform-specific language. Most TikToks wouldn't work on Twitter because they reference platform trends. Use TikTok lingo, emojis and relevant hashtags.
It's OK to admit there's an admin behind your social media accounts, but ensure TOV consistency – especially if you have more than one admin working on the same platform.
Remember that TikTok and Twitter allow for more experimentation than Facebook or Instagram. If you're trying something new, start here.