Melissa Harvey
11 May 2023
4 min
How TikTok is redefining the way we search
Ask any millennial or older internet user their go-to app when searching for a business and the answer would probably be Google.
But for an increasing number of young people, the answer is TikTok or Instagram.
Last summer, Google's Senior Vice President Prabhakar Raghavan acknowledged that young people are looking to TikTok and Instagram to find answers to their questions in more immersive ways than we've become accustomed to.
Here's how search marketers can adapt as social platforms, particularly TikTok, continue to change the way young people search.
Shifting search habits
Take this example using the search term "places to eat" in Manchester for both Google and TikTok.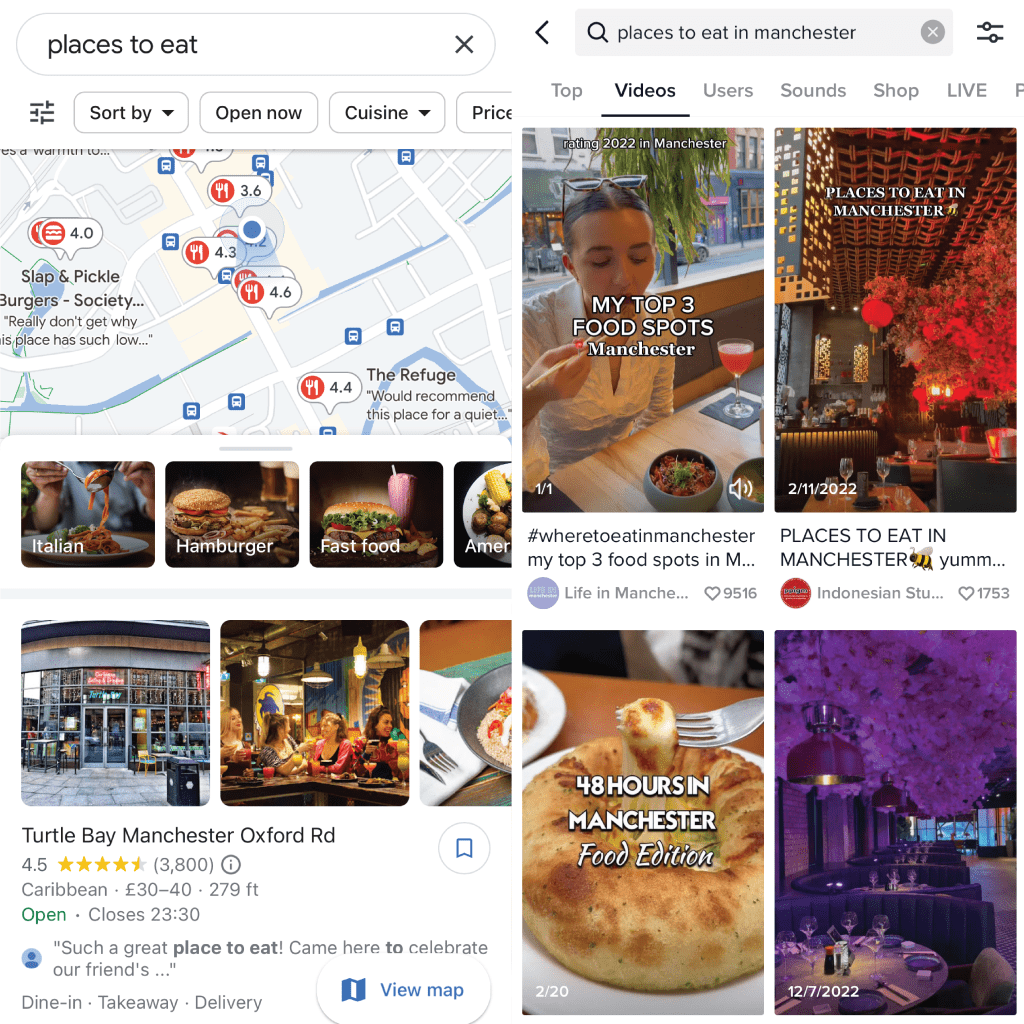 This is just one example of the products and businesses that young people are searching for using TikTok. But using this example, consider for a moment the difference between the two apps: Google on the left and TikTok on the right.
Google throws up a list of links of brands with either the resources to implement a good SEO strategy, a healthy ads budget, or both. But Google doesn't prioritise the user's interests.

On the other hand, TikTok is designed to deliver hyper-relevant content to users. What's more, the results are narrative-driven, short and in a format that is easy to consume.
The impact of this? According to Google's internal research revealed last year, almost 40% of young people in the US aged 18-24 go to TikTok or Instagram when looking for a place to eat, rather than Google Maps or Search. This figure is now likely higher.
Almost 40% of young people in the US aged 18-24 go to TikTok or Instagram when looking for a place to eat, rather than Google Maps or Search.
The TikTok-ification of search
TikTok's rise as a discovery tool is part of a broader transformation in digital search. Consider also that 55% of product searches now begin on Amazon. It's another trend that could cut into Google's core business of search and discovery over time and affect the ads sold against those sorts of queries.
Digging into data from GWI, we can see that for Gen Z, social networks have had a four point lead on search engines when looking for more brand or product information for the past two years. What's more, the gap amongst all internet users is narrowing.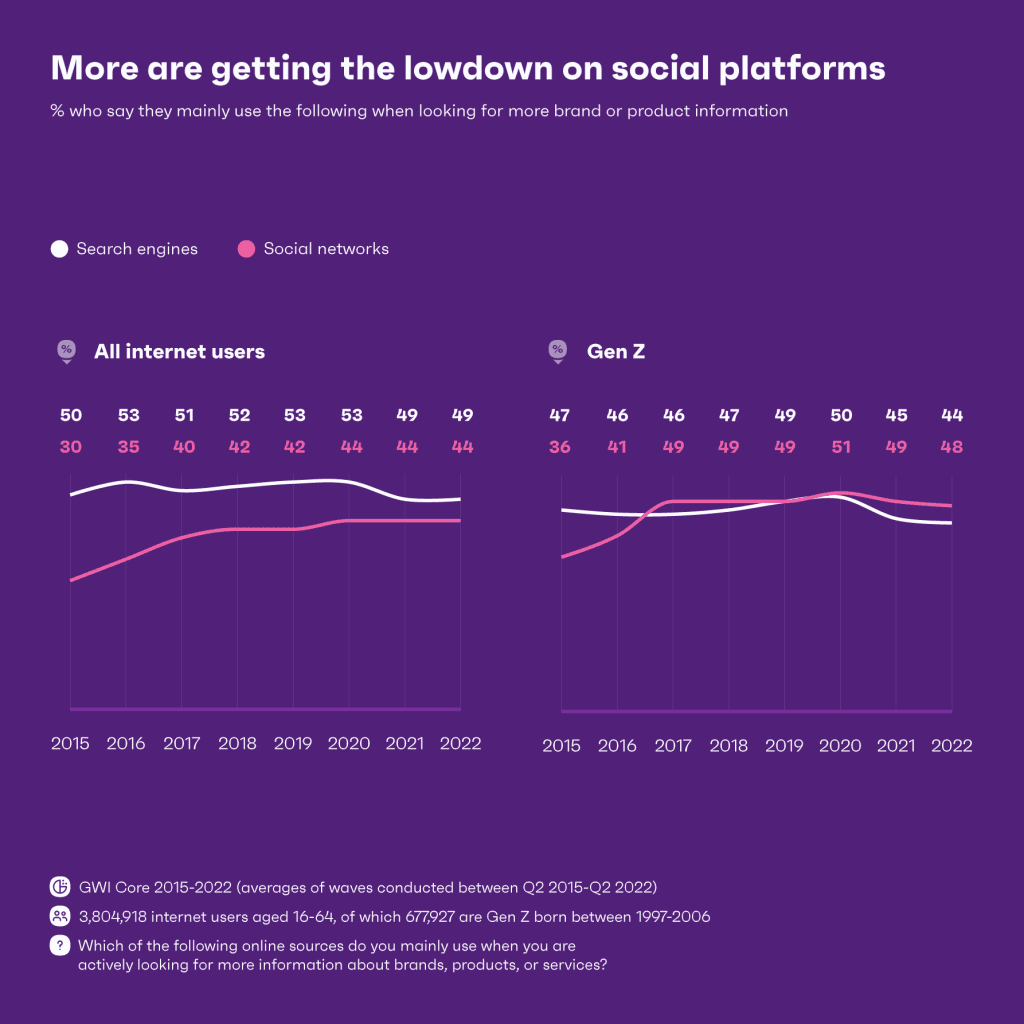 Google, keen to counter this trend, is leaning into young people's taste for visually rich forms of search and discovery by investing in new technology like incorporating AI into Google Maps. The search engine is also working on deals to index Instagram and TikTok videos in Search and directing users to richer search results via AI-powered video analysis.
Time will tell if these initiatives are successful, and they will need to work hard to pull market share back from TikTok. "TikTok SEO" and "TikTok PPC" were terms we were unaware of a year ago, but TikTok has had its eyes fixed on search for some time now. In Q3 last year, the platform rolled out a new feature identifying key words in video comments and linking to search results using these key words as search queries.
TikTok went even further last month in displaying text-based Featured Answers along with video results. And this week, the platform quietly rolled out a new Search bar widget for iPhone users.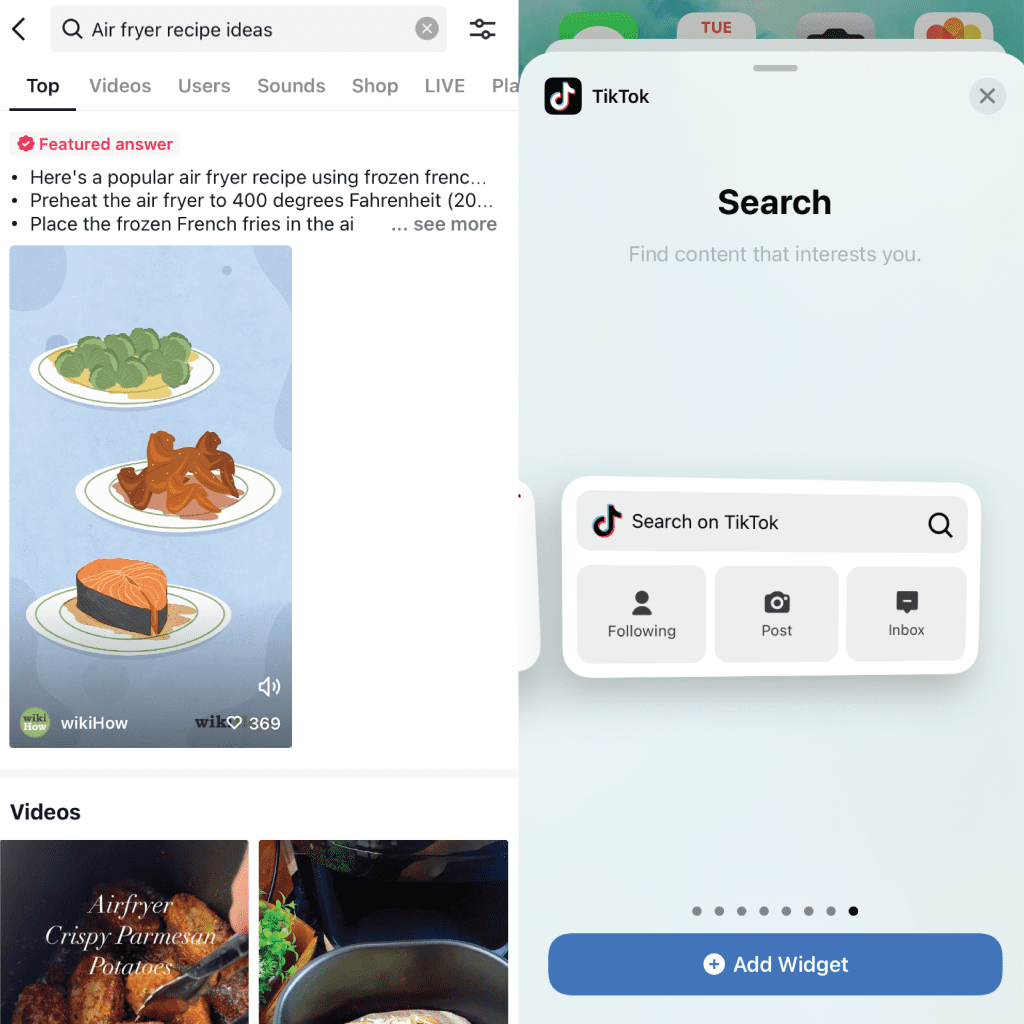 These aren't coincidences, but deliberate moves. Though it's a video-first platform, TikTok isn't settling for competing with Google using video alone – it's taking a direct route to gain marketing share in the form of text-based search results too.
Kit Bienias, Performance Director for Growth at Brave Bison, gives us further insight into how the platform is adapting in the paid ad space.
"TikTok has recently launched Search Ads, which allows businesses to advertise their products and services within the platform's search results. With over a billion active monthly users and a focus on user engagement and entertainment, TikTok's Search Ads have the potential to revolutionise the search advertising space."
Optimising for social search
Being searchable through social in 2023 shouldn't mean reinventing the wheel. Core principles of search engine optimisation that have been refined over the years still apply in the modern landscape. But it's integral that brands adapt their search strategies to include social search.
We recently worked on this for a major car sales brand, adapting their TikTok strategy to create saveable how-to video content solving common car maintenance-related queries.
This approach translates across a number of verticals from beauty to DIY and homeware. Break down your explainer video into 3 or 4 main points in the video caption, including all necessary keywords to help curious users find you.
Finally, tagging your location on TikTok and Instagram helps with discoverability. This is crucial for any business that invests in local marketing, like restaurants, takeaways and independent retailers.
If you want to learn more about this topic, Social Chain by Brave Bison is perfectly positioned to build your social search strategy. Contact us today to find out how.