SocialChain
14 July 2023
2 min
We're shortlisted for two UK Social Media Awards 2023 
We're thrilled to announce we've been shortlisted for two UK Social Media Awards for our work with KFC UK & Ireland: Best Use of Twitter and Best Audience Engagement Campaign.
Created by international events specialists Don't Panic Events, the UK Social Media Awards celebrates creativity and innovation in social media for businesses across creative, marketing, advertising, media and PR.
The first of our two nominated categories, Best Use of Twitter, celebrates campaigns harnessing the platform to create captivating campaigns, deliver exceptional content, and connect to people authentically.
And our second nominated category, Best Audience Engagement Campaign, spotlights the best use of social media to develop, manage and engage online audiences and achieve ROI.
Delivering more than just Original Recipe chicken…
For our World Cup campaign 2022, KFC challenged us to use the power of reactive social. We set our sights on driving modernity and consideration by aligning KFC Delivery with key in-game, sporting and cultural moments as they happened throughout the tournament.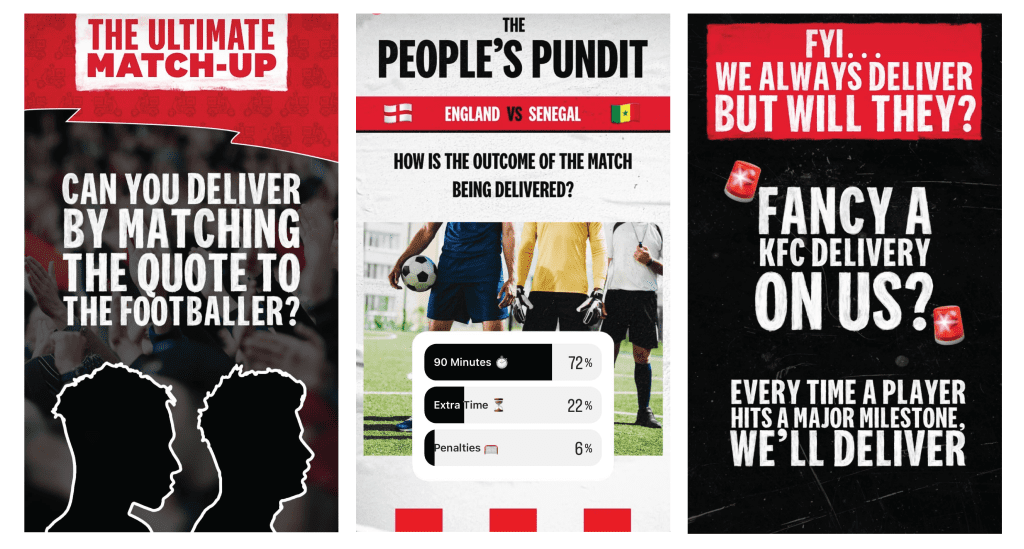 We responded with a campaign across Twitter and Instagram that gave KFC UK & Ireland its biggest tweet of the year, a gamified Instagram Story format that sent engagement rates skyrocketing, and unique loveable rogue-style commentary that cemented brand love in an ultra-competitive – and at times controversial – space.
Here's a taster of the success we achieved:
–18m impressions and 440k engagements – all organic
–12m impressions and national press coverage for KFC UK & Ireland's biggest tweet of 2022 and second-biggest tweet ever
–35% ER for our Instagram Story content
"With the team at SocialChain, we found a truly distinctive way to insert KFC Delivery into some of the biggest moments of the World Cup to get attention and drive relevancy for the brand," says Andrew Hendry, social media manager at KFC UK & Ireland.
"Our live game rooms on Twitter allowed us to react quickly to in-game moments, whilst our approach to Instagram Stories meant we could harness the hype and excitement around coming matches and maximise engagement.
"Together, we delivered some amazing results to ensure cut-through and drive awareness of KFC Delivery throughout the World Cup. And we even made headlines!"
If you're after a deep-dive into this campaign, check out our full case study here.
Next year, it could be your brand getting shortlisted for national awards celebrated by esteemed global judges. Get in touch with us and we'll make it happen.