Melissa Harvey
21 July 2023
1 min
Instagram wants you to create Reels in one tap with its improved templates 
Instagram is introducing improvements to its Reels templates to help users create better short-form videos.
The improved Template Browser allows users to search for Reels templates in different categories: Recommended, Trending, and templates you've saved.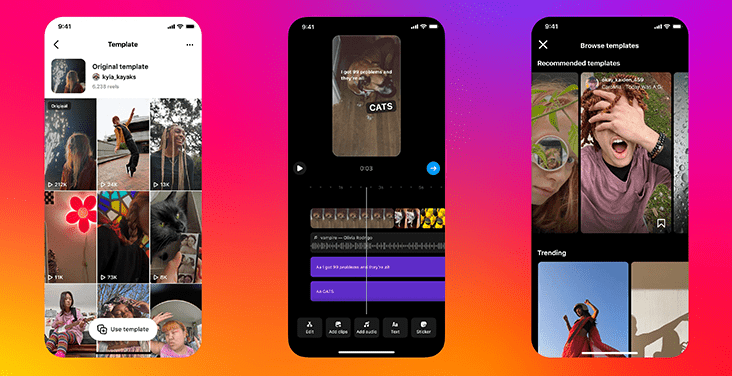 To access it, tap the icon in the lower left corner of the screen while in the Reels creation flow, then tap Templates.
When using a template, elements like audio, number of clips, duration and AR effects carry over from the original Reel.
Instagram has now confirmed it's working on text and transitions to be included as well. Templates will be customisable – allowing you to add or remove clips, adjust the timing of individual clips, or edit any preloaded element.
How this helps you create better Reels:
The Template Browser makes it easier for brands to discover and utilise popular Reels formats that resonate with their audience.
You'll save time and effort with the improved templates, as they'll automatically add key elements from successful Reels.
But don't become over-reliant on templates as a Reels strategy. Templates work well if you're putting your own spin on a trend or are short on time.
Otherwise, explore new formats and angles that set you apart from competitors and connect with audiences in unique ways.