Melissa Harvey
25 July 2023
1 min
TikTok's introducing a new post format – and it looks familiar 
TikTok is taking on Twitter and Instagram's Threads by introducing a new feature: text posts.
TikTok says the new feature aims to give "the written creativity we've seen in comments, captions, and videos a dedicated space to shine".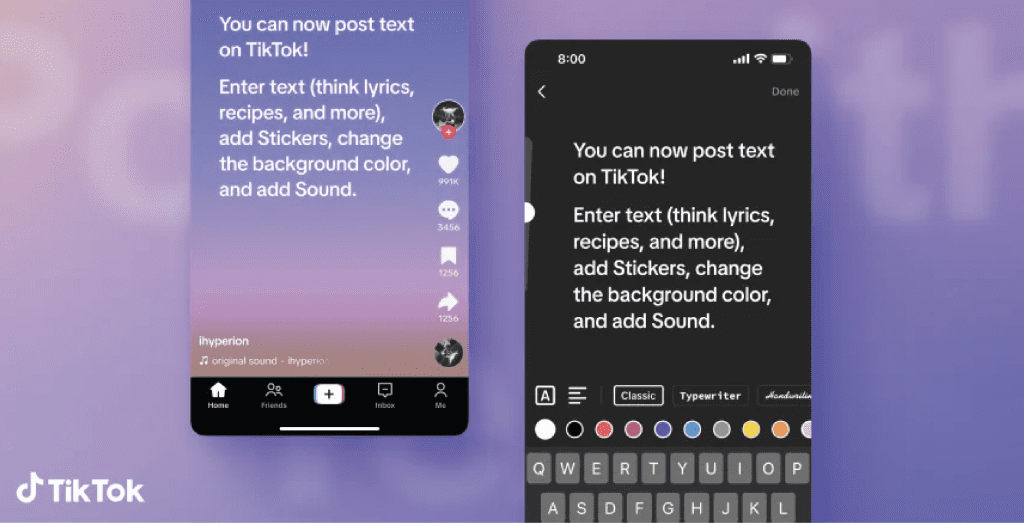 The announcement comes the day after Twitter's rebranding as X, and two weeks after Meta's new app Threads debuted, both of which are text-based social media platforms.
TikTok text posts are similar to those on Instagram Stories. Posts have a 1,000-character limit. Other users can Stitch, Duet and comment, just like with regular video.
To create a text post, go to Camera, then select Text. You can also add a location, tag other accounts, add hashtags, Stickers, audio and change the background colour.
Is social becoming text-first?
For a platform so heavily centred on video, it seems surprising that TikTok has decided to move into the realm of text-first content.
Then again, considering the timing of the feature, it's more likely that TikTok is just trying to lure as many users away from Twitter and Threads as possible.
TikTok text posts bring an opportunity for brands to leverage written creativity to complement existing video content.
Tell more in-depth stories, share announcements, conduct Q&A sessions, or provide educational content.
Overall, though, don't expect it to take over TikTok. The platform is still best suited to video, so save text posts for when you need to use them.