Melissa Harvey
6 October 2023
5 min
10 ways brands can overcome the disconnect
In an increasingly connected world, why are brands and their people more disconnected than ever?
If you made it to our SocialMinds Live event Overcoming the Disconnect last month, this is exactly what we set out to answer.
We assembled six incredible brands, creators and platforms – Ryanair, Monzo, Pinterest, Specsavers, Sidemen and WeAre8 – plus our panel of SocialChain experts, to unpack the discrepancy between how people use social and how brands are showing up.
And while there was zero shortage of advice, we've cherry-picked the best of the bunch. Buckle up…
10. Have a strategy. An actual documented strategy. On paper.
It's rarer than you think.
"Without a documented strategy, your social channels become a content dumping ground," says Michael Corcoran, Ryanair's former head of social and creative content. "That makes your job harder."
So take the time to actually build a written strategy. Think of it as a bridge taking you from where you are now to where you want to be.
Give yourself an overall mission. It doesn't matter if it's unattainable. In fact it should be unattainable – it means you'll always be striving for it.
9. Target people based on their interests, not their age.
It might seem counterintuitive, but forgoing reach for attention and interest means you'll actually be resonating with your audience. Take a broader, demographic-based approach to targeting and you'll be just another ad.
"We don't view our audience as a monolith; instead, we delve into specific interest verticals. People come to Pinterest to plan weddings or house moves, but they also use it to decide what to have for dinner or what to wear to work," explains Belinda Boakye, Pinterest's consumer marketing lead.
Or make like Monzo and focus on creating content informed by cultural trends rather than appealing to any one age group. Talking about whatever is front-of-mind will help you stay front-of-mind.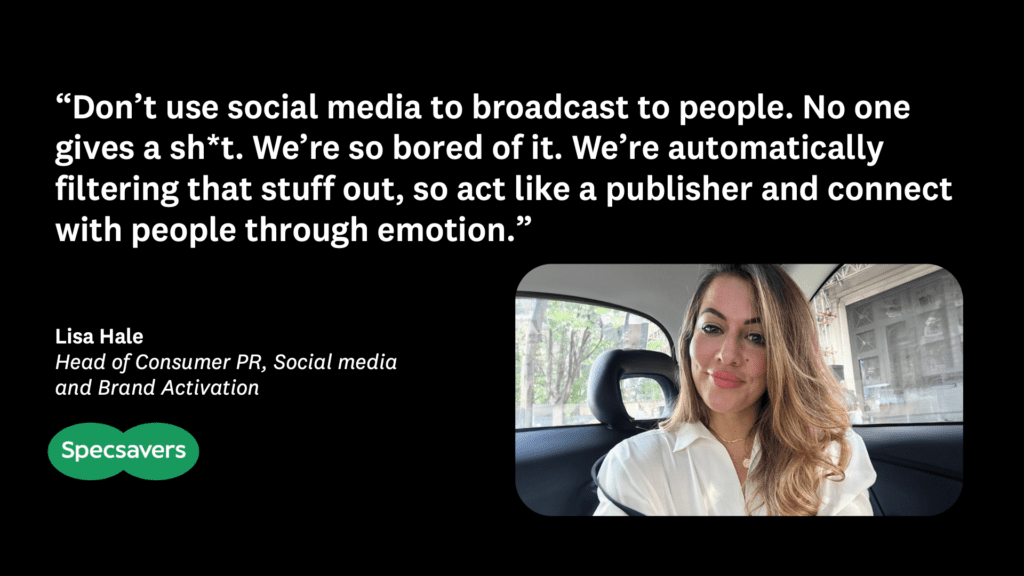 8. Keep briefs brief.
Victor Bengtsson, head of content for the Sidemen and managing director at Arcade Media, had some sound advice for creator partnerships: make briefs three pages maximum. The first two pages should visually map out what you want your collaboration to look like. Include any reference points.
Use the last slide to explain, with words, what the partner is getting out of the collaboration, and what you expect in return.
7. Bring it all back to the customer journey.
There's a simple way to deliver your brand message while still providing value, and it's by using good old-fashioned strategy.
Make the customer journey front and centre when planning. "Identify what you as a brand need to get out of each stage, and then figure out the audience pain points at each stage," advises our group strategy director Ric Hayes. "Then bring the two things together into a specific task and anchor on it."
"Rather than seeing our feeds as ideal ratios of reactive vs. product focused content, we need a holistic view of it all," adds Stefan Evans, our creator director. "Sometimes your strategy demands more or less of one thing than the other, but it's about being informed by your audience at every stage of the funnel."
6. Social is a dialogue, not a monologue.
Social just doesn't behave the same as any other advertising channel. Most brands know this, but not enough of them use social for what it is: a conversational tool as opposed to a broadcasting medium.
"Too many brands take a 'me' approach where there should be a 'we' approach," adds Mariya Spektor, our US director of content for social media.
To get a little, you've got to give a little. Listen as much as you talk – and remember, social is a conversation, so make sure your brand's tone of voice can handle that.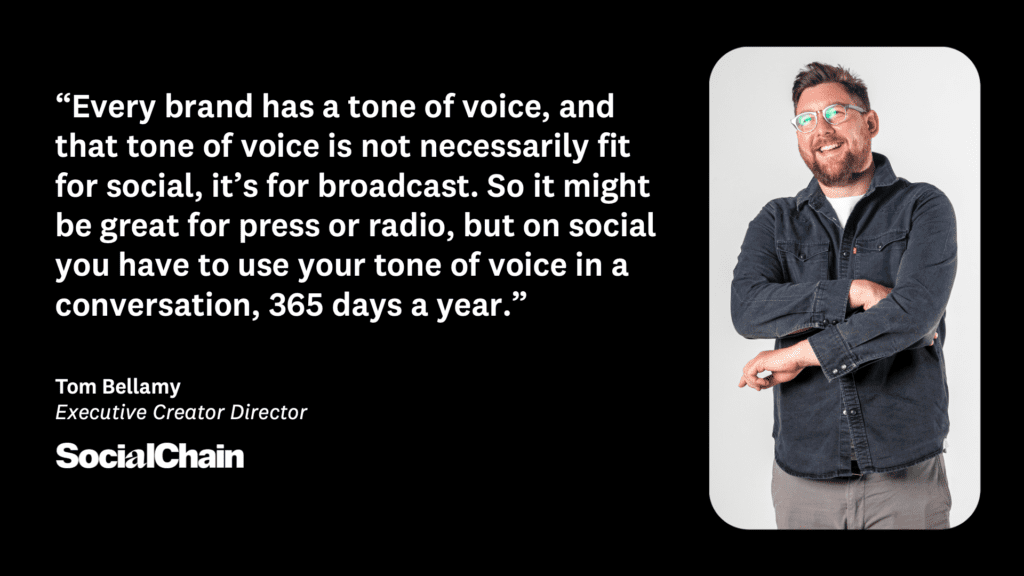 5. Give creators credit.
"Creator partnerships work best when brands say, 'Here's some budget, we don't care what you do with it, just make something great'," says Victor.
And if you feel that a creator's follower count doesn't warrant their cost, you're placing value on the wrong metric.
"There are people with 7,000 followers who can sell more water bottles than people who have 4 million followers," he explains. Pitch the same ask to ten other creators – if you get the same answer, you'll know what the collaboration is truly worth.
4. Long-term brand building over short-term awareness.
All three brands on our panel – Monzo, Pinterest and Specsavers – favoured long-term brand building over quick reactive wins.
"Being reactive is fun, but you can't really build a strategy around it," Richard Cook, Monzo's senior social media manager, points out.
Belinda says Pinterest is more invested in building genuine relationships with niche communities and subcultures, as it makes partnerships and larger activations credible.
"Reactive social is only a small part of what we do," explains Lisa Hale, head of consumer PR, social media and brand activation at Specsavers. "It keeps us top-of-mind while landing our health messaging – that's our long-term brand building stuff."
3. People want to be entertained, not sold to.
As much as we'd love to think people can't get enough of The Brands, most people use social for light entertainment. It's an extremely competitive space, so making people laugh is one of the best ways to grab their attention.
"WeAre8 is proof that people want to be entertained," argues Laura Chase, WeAre8's chief commercial officer. "Social content should be fun to make and to consume."
That's why Ryanair's creator-inspired strategy works. A world away from polished 'brand' posts, their content is low-fi, relatable and self-deprecating – it's truly human.
2. Trust the experts.
No one knows their audience better than creators, so don't be too prescriptive when working with them.
Our head of influencer Amelia Wollaston believes creators' selling point for brands is their ability to make ordinary products interesting. Take a toothpaste ad to Max Fosh and Francis Bourgeois, for example, and you'd have two totally different ads. "They think outside the box and create something you wouldn't have even thought of."
Speaking of trust, that goes for your social teams, too. They're the ones closest to the platforms – and your audience. "Far too often, leadership teams will over-revise content," says Mariya, "so much so that it takes you away from the original storytelling aspect or quality reactive moment…and it flops."
1. People before products.
It's easy to get swept away in the excitement of a campaign, but put yourself in the end user's shoes and ask, "Would I care about this?" If the answer's no, you're not doing it right.
"Flip your product or service so that it's audience-first," says our executive creator director Tom Bellamy. "A toothpaste ad isn't about the toothpaste, it's about the people using it. Determine the value they place on that toothpaste in their lives. Does it make it easier? More fun?"
Being on social is like being at a party. If all you do is talk about yourself, it'll only turn people off. So engage people. Find out their interests. Make them laugh. Invest in the conversation. Only by listening will you learn – and truly connect with people.
Couldn't make it? Join the SocialMinds community.
You'll stay up-to-date with the latest news from across the agency, receive industry updates, and be first to hear about any future SocialMinds events.