Melissa Harvey
16 January 2023
0 min
What's in the future for your 2023 campaigns, according to Pinterest Predicts
Before you see it everywhere, see it here.
It's the tagline of Pinterest's annual trend forecast report Pinterest Predicts, and it's not all talk.
Pinterest Predicts has maintained an 80% success rate for three years running when it comes to trends coming true, earning the nickname "marketers' crystal ball." The report lets brands delve into the biggest trends in the year ahead across 12 verticals, including fashion, food and drink, financial services and entertainment.
What sets it apart from other trend forecast reports is its niche-ness. Pinterest Predicts lets marketers in on its search data's most granular details, like a whopping 3370% increase in searches for gamer girl fashion and a 245% increase in searches for salmon bowls – no doubt inspired by TikToker Emily Mariko's viral video.
"There is no platform where the intent of the users and the needs of the brands are so perfectly aligned."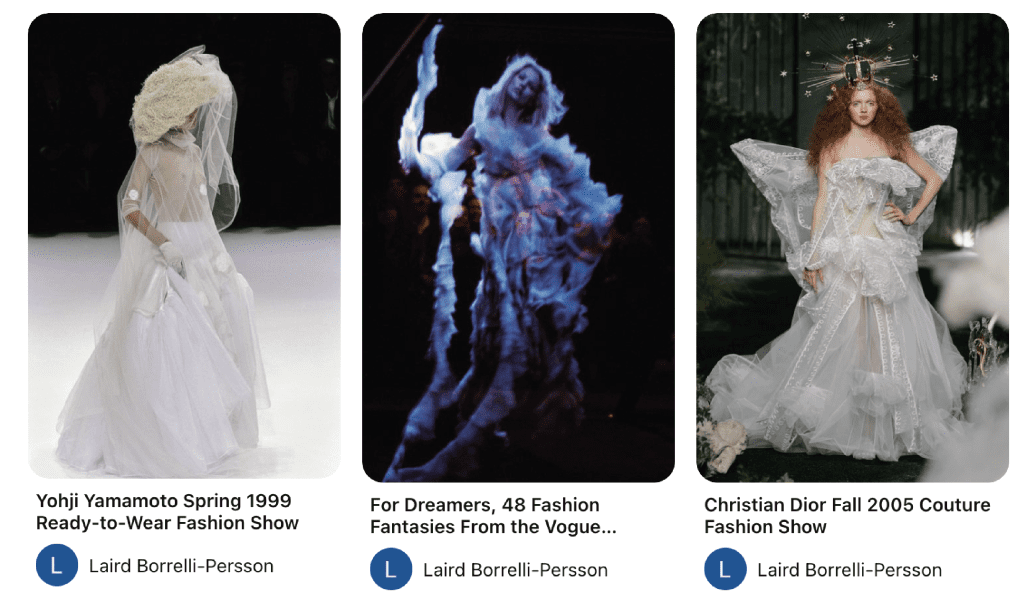 It's insight that's actually helpful for brands, as opposed to general observations like "authenticity is in." Just ask Vogue, which claimed Pinterest's Airy Styles trend as the one to know about in 2023.
"Pinterest Predicts eliminates the need for guesswork," says Louise Richardson, Pinterest's director of marketing, who returned to the Social Minds podcast to talk through the report. "Our trends are current, but they'll only rise in the year ahead. That's why it's a not-yet-trending report."
Where 2022 saw consumers embrace maximalism and crave escape, 2023 will bring a renewed desire for self-care. It's become something of a buzzword, but "self-care" captures Pinners' aspirations to look after themselves: whether that's taking up a therapeutic hobby like art journalling, completing anti-tech workouts, opting for a mocktail or making a healthy dinner.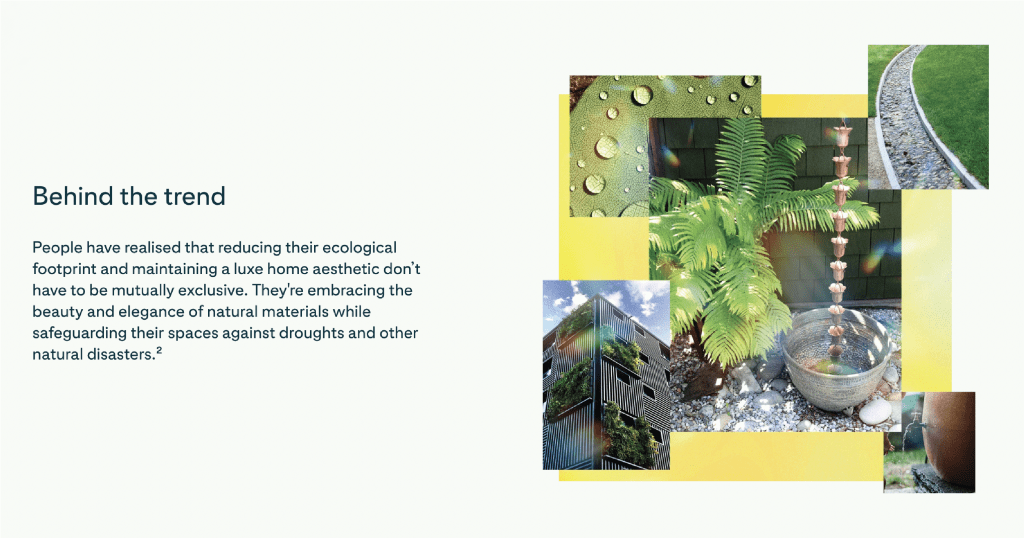 Pinners aren't only looking to take care of themselves, but the planet too. Elsewhere, social listening might lead marketers to believe that consumers don't want to be marketed to; that tight budgets are making us shop less.
But on Pinterest, you'll find proactive solutions to problems caused by the rising cost of living and climate anxiety. That's why we're seeing Pinners upcycle inherited vintage finds and devise drought-tolerant garden features.
"When people are challenged, they turn to Pinterest…to do something about it. You don't get that on other platforms. That's why you're seeing positive takes on dystopian mindsets."
And this year the report got an upgrade. Marketers on Pinterest Predicts' minisite can filter trends by audience (Boomers, Gen X, Gen Z and Millennials), brand values like creativity and sustainability, and categories. So no matter your industry, there's a trend activation for you.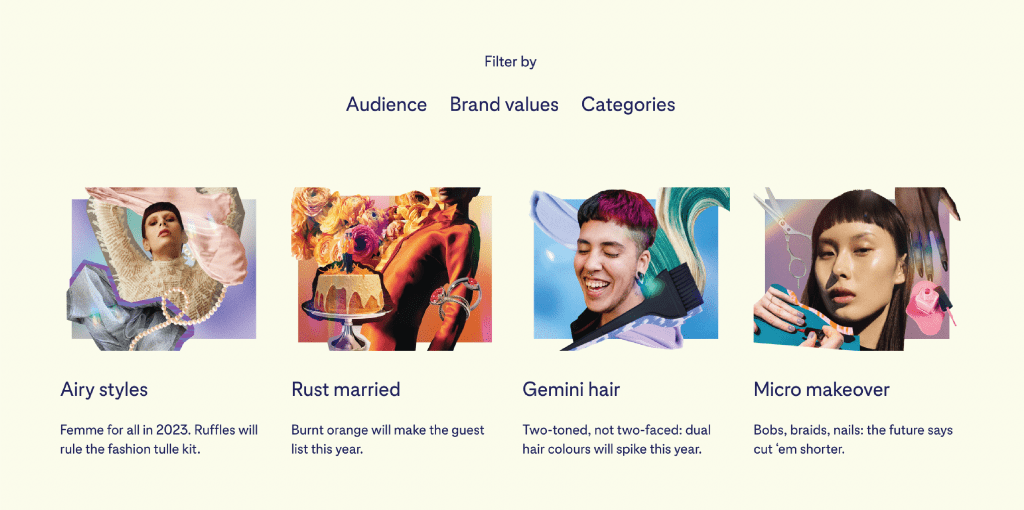 As ever, categories aren't exhaustive. Take 2023's Wildflours trend, for example. Gen X and millennials are driving this botanical baking trend – a natural fit for for food brands. But there are opportunities here for homeware and cosmetics brands to capitalise on the "herbal apothecary aesthetic", searches for which are up 1025%.
And broader trends like Romcom core and All the Raves speak to 2021's resurgence of 90s/Y2K aesthetics that will stay alive and kicking in 2023. It's incredibly versatile, whether that's set design, models, product branding, music, fonts or colour palettes used in your campaigns and Pinterest ads.
"We've told a generation of children: if you're bored, pick up a screen. It's not a bad thing, but the kind of experience you have online is important."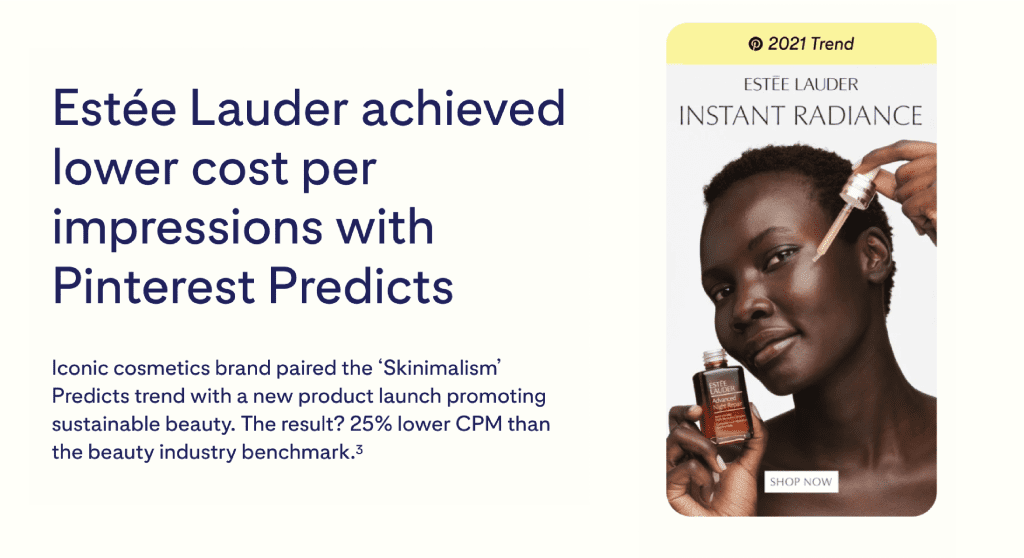 The best ads don't feel like ads – so create something that looks like what Pinners are already searching for. Cosmetics brand Estée Lauder leaned into 2021's Skinimalism trend prediction with their Instant Radiance campaign promoting sustainable beauty. Results saw a 25% lower CPM than the beauty industry benchmark.
But if you let one trend inform your marketing priorities this year, let it be this: from anti-tech exercises to art journalling, Gen Z and millennials will crave time away from the screen in 2023.
The best thing brands can do? Enrich offline experiences with what you do online. "We've told a generation of children: if you're bored, pick up a screen," explains Louise. "It's not a bad thing, but the kind of experience you have online is important."
Trend-led tips to help you be the solution to what Pinners are searching for in 2023:
Wedding and events planning brands, take note: burnt orange shades like terracotta and copper will be the colour du jour.
Demand for sustainable transport means Gen Z and millennials are driving trends for train travel. These trends find their way into homeware, with searches for "Indian railway station photography" up 175%.
The objective for financial services brands in 2023? Make money management fun. Think money saving challenges and accessible budgeting tips.
Boomers and Gen X are making antiques chic. This year, they'll embrace inherited or vintage homeware pieces and combine them with modern styles.
Gen Z and millennials are practising gender-neutral parenting. Babycare brands can cater to this by offering books, activities and art that encourage self-expression and gender diversity.
A resurgence of rave and romcom culture is taking us back to the 90s and noughts. This is a versatile trend – from homeware to fashion to events planning, or inspiration for your next campaign aesthetic.
Enrich your audience's offline experiences. Help them recharge with creative therapy like papercraft, music therapy or art journalling – which is up 37x.