Melissa Harvey
31 March 2022
4 min
"When everyone goes left, go right": How Thursday championed organic reach to launch a brand
Last year, 12 people paraded around London holding cardboard signs that read "I cheated on my girlfriend on Thursday and this is my punishment."
This wasn't an unfortunate coincidence, but a PR stunt conducted by Thursday, a dating app named for the only day of the week it operates on.
The 'unfaithful' 12 (actually Thursday marketing interns) went viral after LADbible shared pictures of them on social media, and the stunt pulled in 23,000 downloads in two hours. Not bad for a day's work and a piece of cardboard.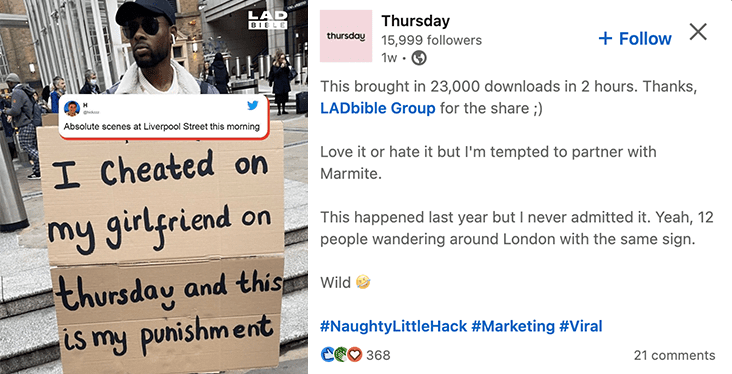 Thursday's co-founder and chief operating officer Matthew McNeill Love joined episode 174 of the Social Minds podcast to tell us the lessons he learned from launching a brand with a limited marketing budget.
In some ways, Thursday was primed for an organic-heavy launch. Matt tells us that Honeypot, Thursday's predecessor founded in 2018, used low-cost PR stunts and relied on reshares from big name brands to get its name known without huge ad spend costs.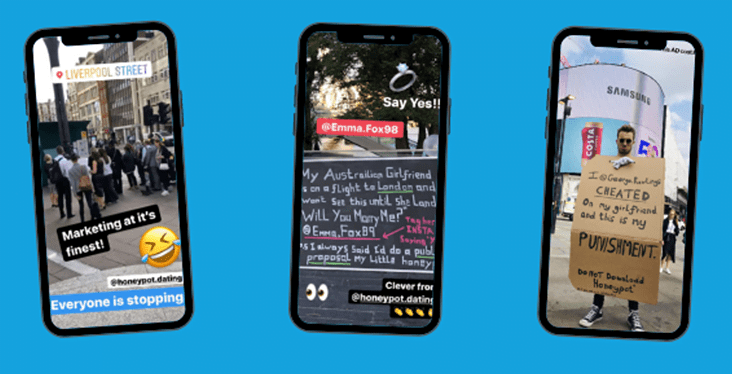 After achieving success with organic reach, co-founders Matt and George knew that Thursday would follow suit. "When done right, brands can do an awful lot with little money and a lot of creativity", says Matt.
For Thursday, creativity is an employee asset worth its weight in gold. From its tongue-in-cheek tone of voice to a Spotify playlist marketing intern application, Thursday values the unexpected.
The PR stunts speak for themselves. One saw a marketing intern handcuff herself to a pole all in the name of 1000 app downloads. Staged though it was, the trick racked up over 14,000 LinkedIn engagements.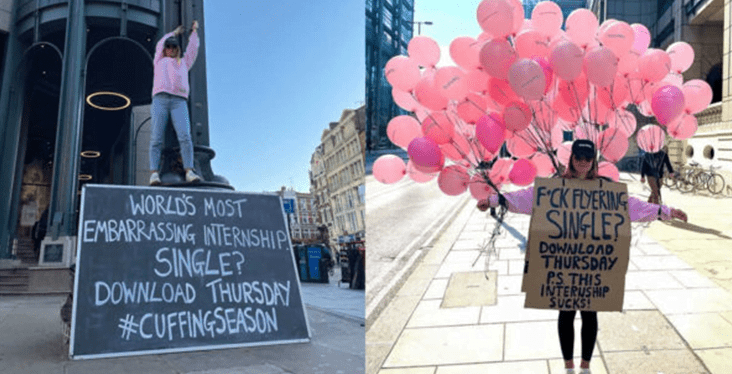 So what's the secret to success? A good PR stunt needs the right balance of humour, relatability and the shock factor, Matt explains. Brands should avoid plugging their products as people will lose interest. Instead, focus on a clear end goal. Objectives are less clear here than on social. Get people talking and downloads will follow.
You'd think a healthy budget would be included somewhere in this formula, but that's not always the case. One reshare from a big name news platform is all it costs to get the ball rolling, and Thursday had plenty of those.
Shareability is key, even if what's implied in the post differs from reality.
Thursday employs social out of home marketing tactics, which means its stunts are created for social media. Shareability is key, even if what's implied in the post differs from reality.
One of its early stunts had a marketing intern set up a date in the middle of the street and invited people to chat with her. Regardless of how many actually did, it doesn't matter – people took pictures within the first five minutes.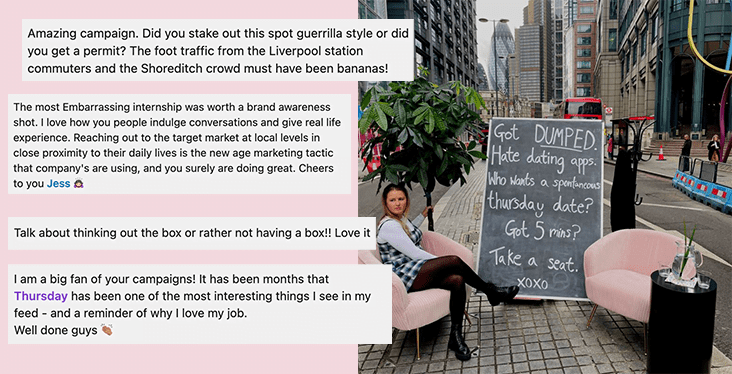 Matt makes an interesting point when it comes to marketing budgets, flipping the script on how they're traditionally perceived. Sceptics might say that what's essentially a low-cost, simple PR stunt idea is easy enough to replicate, while devising compelling ad creative is harder. But Matt asserts it's the other way around. "It's too easy to chuck money at ad spend," he argues. "The real challenge is keeping costs down while doing the best stunts possible."
Challenging existing preconceptions seems to come easy to Thursday – just look at its ads. Its handwritten messaging evokes rustic simplicity in direct contrast to the filtered images and refined feel of other dating apps.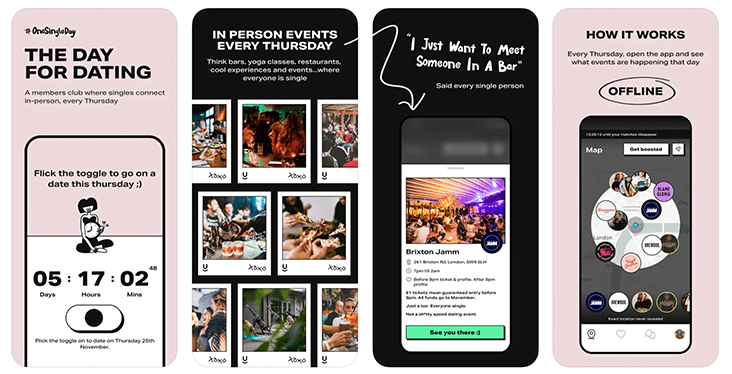 The same goes, too, for its LinkedIn approach. It doesn't shy away from expletives or innuendo here, even on a platform that some see as too corporate for direct-to-consumer products. In fact, going against the grain was exactly why its organic content performed so well.
"People see LinkedIn as a platform to shout about your achievements, but you can win people over on there by being humble and genuine," Matt tells us. "The same goes for all social platforms – you don't have to use them the way other people are using them. If you're different, that's when it works."
Thursday's tips for startups:
Run your creative past all relevant team members before going ahead with it so you're all on the same page.
Push the boundaries, but don't overstep the line. PR stunts need to be attention-grabbing but they shouldn't be offensive.
Be original. Trying the exact same PR move as another brand doesn't work – the social aspect of social out of home means you'll be found out straight away.
Encourage people in your team to reshare your posts on social as soon as they're published. It'll boost your content in the platform's algorithm.
A PR team isn't always necessary. If you make your product attractive enough, PR opportunities will present themselves to you – not the other way around.
Aligning your startup with your largest competitors means you'll all be on the same playing field even if you're a small fish in a big pond.