Melissa Harvey
17 August 2022
5 min
Why brands should become more human on LinkedIn
Some marketers might think LinkedIn is only a jobs platform. A platform where brands can announce new career opportunities, sure; advertise to consumers, maybe. But dropping professionalism? Perhaps not.
Brands like Thursday, Innocent and Gymshark are all challenging this perception, bringing a fresh perspective. Marketers will say the best brands are human, and despite its corporate associations, LinkedIn shouldn't be an outlier in this approach.
"People find it hard to connect with a brand that's just a logo," says John Williamson, LinkedIn's senior content marketing consultant, on the latest instalment of the Social Minds podcast. "But this changes when they're speaking to a person."
"People find it hard to connect with a brand that's just a logo."
Far from a subsidiary, John's insight highlights employee profiles as your biggest asset when it comes to humanising your brand. Reposting employees' content or encouraging them to share and comment on yours, whether that's your latest campaign video, an award win, or a post about the world of work, can go far.
The parlance of professionalism that has long dogged the platform is outdated. Brands shouldn't be afraid to speak how their audience speaks. Beyond being acceptable, it's actually advantageous to go against the grain. Dating app Thursday uses LinkedIn as a place to speak directly to its audience in unorthodox ways – innuendo, expletives, you name it (for more on that, see our article). It was embodying its customer base, not acting removed from it, that stirred up PR interest and great engagement rates.
The pandemic was a huge accelerator, creating a sentiment of support and humanity among branded messaging that helped pull back the curtain: that, in the face of global tragedy, consumers and brands alike faced the same difficulties.
Brands' human era means standing out becomes the real challenge. As John explains, the key to a successful LinkedIn presence is hitting a content trifecta that only a unified brand can produce: employer, corporate and consumer.
Customers aren't your only audience. Current and future employees, stakeholders, influencers and more see all of your content with different motivations, even if you don't always target these specific groups.
A unified brand retains consistency across all messaging, letting all of your audiences know exactly who you are. That means your LinkedIn Page should do more than just sell products.
"A scripted or copy-and-paste approach to thought leadership won't work because people want to discuss, not passively consume."
It's not about disregarding product sales entirely – not that marketers ever do – but about giving equal thought to showcasing employee culture and thought leadership as you do your latest product campaign. The former might not directly translate to increased sales, but it will enrich your Page, build consistency, and trust.
Just make sure that whether you're heroing sustainable supply chains or advocating work-life balance, you can talk the talk and walk the walk. "A scripted or copy-and-paste approach to thought leadership won't work because people want to discuss, not passively consume," says John. "Discussion on LinkedIn has been huge in the past two years."
Heading to the comments section is a valuable way brands can drop the tie. See LinkedIn as a community management tool not unlike Instagram DMs or Twitter, where even signing off your brand Page's messages with admin's name lets followers know there's a human behind the logo.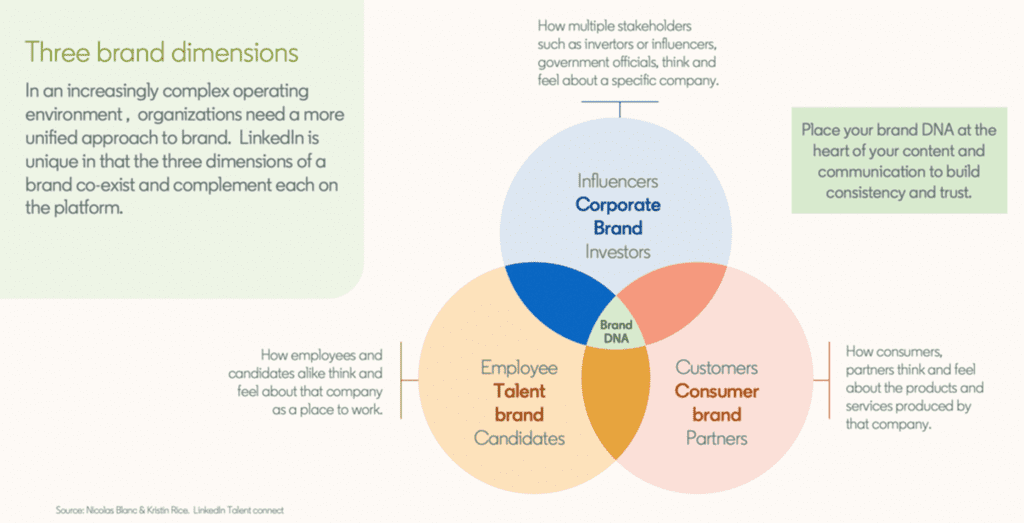 The life and soul of a business often lives on Facebook or Instagram, but LinkedIn can give brands the edge – and undisputed reach. Take Innocent's 'Working From Home 2020-2022' post of January this year that delivered 84k organic engagements (for our article on Innocent, click here). Once a post gets traction, it can snowball in a way that's lacking from other platforms in today's pay-to-play landscape.
While there's no magic formula for virality, there are a few best practices to consider. The feed favours carousel posts and video most, so lean into these, but don't take it to extremes. Both overposting and homogeneity is a recipe for lagging engagement.
If you're not sure where to start, look for inspiration in all areas, even the places you wouldn't expect. John recommends the 5:5 rule – study the feeds of five direct competitors and five brands or people completely removed from your world of work. You'd be surprised at what works well by testing different ideas.
For long-form content, there's newsletters, an organic and free feature that emails all subscribers with every new edition. Base them on anything that's relevant to your brand, with countless formatting options like images, video embedding, slides and links. Pages can only manage one newsletter at a time, so avoid changing your content's themes too much or risk subscriber confusion.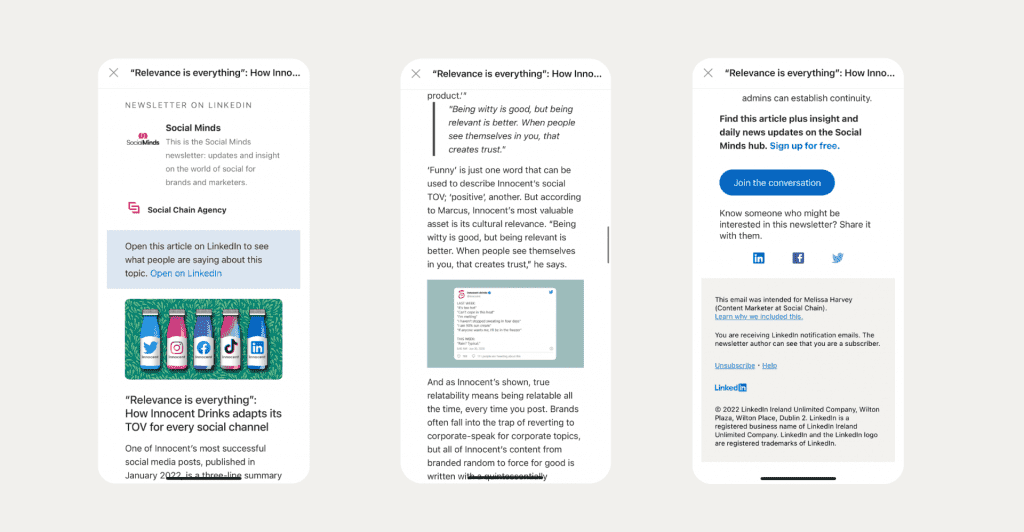 Beyond BAU, LinkedIn Events are an invaluable way of hosting meetups, seminars or online workshops in a post-pandemic world. Create and promote physical events on LinkedIn or stream a virtual conference using LinkedIn Live – the choice is yours.
Variety is the spice of LinkedIn, so combine varied organic content with a suitable amount of paid – that's everything from video to carousel to dynamic ads. Building a unified brand helps marketers hit upper-funnel goals, but conversion is key – and according to platform data, Page followers exposed to organic and paid content are 61% more likely to convert compared to those who only received paid.
The biggest issue brands on LinkedIn face, according to John? Losing their purpose. "All too often brands don't know what their 'why' is. Tap into this, and you'll get great content in return."
How LinkedIn marketers can level up:
When creative block strikes, try the 5:5 rule. Follow five direct competitors and five companies or people outside your industry.
Thought leadership shouldn't be a script-reading exercise. Use experts to share their knowledge and carry on the conversation in the comments.
People buy from people they trust. Speak how your audience speaks, encourage employees to share and comment on your brand's Page, and invest in community management.
Let product sales be one aspect of your organic content strategy. Focus on building this out with other topics like your employer brand or behind-the-scenes of your latest campaign.
Vary both the organic content formats you post and your organic to sponsored content ratio. Optimise through A/B testing.
Try posting content you'd usually share to Facebook or Instagram on LinkedIn.